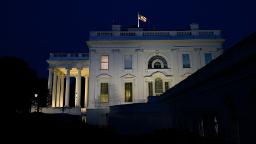 Trump arrived Friday afternoon at
Walter Reed National Military Medical Center
, where he will be "working from the presidential offices … for the next few days," press secretary Kayleigh McEnany said. A source familiar with the situation said White House officials have
serious concerns about Trump's health
and a top administration official told CNN that Trump is "OK for now, but our fear is that things can change quick."
It remains extremely rare for a president to stay overnight at a hospital, given the extensive medical facilities available at the White House. But Trump isn't the first president to do so, for a variety of reasons.
William McKinley
Theodore Roosevelt
Dwight D. Eisenhower
Ronald Reagan
In 1981, President Ronald Reagan was struck by a ricocheting bullet outside the Hilton Hotel when John Hinckley fired six shots in less than two seconds, hitting press secretary James Brady, Secret Service agent Timothy McCarthy and DC Police Officer Thomas Delahanty. Reagan was rushed to George Washington University Hospital in a split-second decision that possibly saved his life — the bullet penetrated within an inch of the President's heart, filling one lung with blood.
Then-Vice President George H.W. Bush immediately headed back to Washington, but the lack of a secure phone line between his plane and the White House contributed to a brief sense of confusion within the administration. The result was Secretary of State Alexander Haig's infamous declaration that he was "in control … pending the return of the vice president."
After the attack, Reagan joked with his wife saying he "forgot to duck" and asked the attending doctors if they were Republicans.