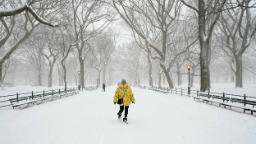 According to
data
from the National Weather Service, parts of New Jersey, New York and Pennsylvania have already received more than 2 feet of snow.
The Pennsylvania communities of Nazareth and Ancient Oaks, and the New Jersey borough of Mendham, have seen at least 30 inches of snow,
according to the weather service
.
"Please check the status of your flight before traveling to the airport," the airport said on
Twitter.
More than 22 inches were reported in the New York town of Monsey, according to the weather service. And New York City's Central Park had received about 17.2 inches as of Tuesday morning.
Ronald Reagan Washington National Airport had 2.6 inches and Philadelphia International Airport saw a measurement of about 6.1 inches.
Worcester, Massachusetts, saw its second-highest daily snowfall record for the date of February 1 with 13.8 inches. Worcester's all-time record for the date was set in 1898 with 14 inches, the
weather service said.
Meanwhile, Danbury, Connecticut, and Sabillasville, Maryland, both saw at least 19 inches of snow Monday.
Terra Alta, a town in West Virginia, saw about 15.6 inches of snow, the weather service reported Monday night.
Even parts of Georgia reported some snow, with Ringgold, a city near Chattanooga, Tennessee, recording about half an inch.