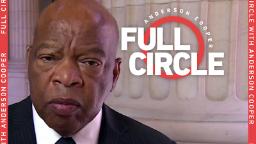 "When I was beaten on that bridge by a state trooper, I thought I was going to die," he told CNN's Anderson Cooper in 2014, as he reflected on the day in 1965 when unarmed marchers were attacked after crossing the Edmund Pettus Bridge in Selma, Alabama.
"I thought I saw death, but I was prepared, and I was ready to do all I could to end racial segregation and discrimination and gain the rights for all of our citizens to participate in the democratic process."
Lewis died at 80 years old last July. As a tumultuous 2020 ends, Cooper took a look back on the incredible life of Lewis in his latest episode of "Anderson Cooper Full Circle."
In the 2014 interview, Lewis said that hearing the words of the Rev. Martin Luther King Jr inspired him to get involved in social activism when he was just 15 years old.
"It seemed like Martin Luther King Jr. was speaking directly to me, saying John Lewis you, too, can do something. You can make a contribution," said Lewis.
In the years that followed, Lewis found strength and inspiration following the leadership of MLK and activist Rosa Parks.
"To meet these two individuals, you lose all sense of fear," he said. "We were prepared — those of us that got involved — we were prepared to die for what we believed in. We wanted to change the American South. We wanted to change America. Make our country a better country."
They maintained a commitment to peace and nonviolence, even when they were confronted with hate.
"It was not easy," Lewis said. "We were beaten. Yes, we were jailed. And we lost some friends, lost some relatives, some colleagues. But we didn't give up. We didn't give in. We kept the faith."